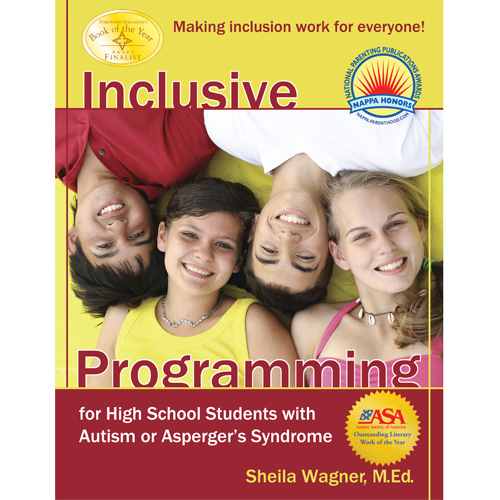 Inclusive Programming for High School Students with Autism or Asperger's Syndrome
Successful inclusion in high school is critical for achieving independence as an adult!
Even though inclusive education is now the standard for educating students with special needs, inclusion is a still a very new process. Successful inclusion relies on flexibility of parents and educators, and their ability to work together for the sake of the student. Training, collaboration, specialized teaching, long-term planning, and a clear idea of the desired outcome for the student—these are just as important at the high school level as they were in elementary and middle school.
This comprehensive guide will help you give your child or student the best possible high school experience. You will learn how to help students navigate the social minefields of friendships and dating, while fostering the executive functioning skills they will need as adults. Expert Sheila Wagner provides the strategies and solutions you'll need before, during, and after high school.
Here are some of the Topics include:
Transitioning from Middle School

IEP Goals and Objectives

Accommodations/Modifications

Course Selection

Developing Friendships
Author(s): Sheila Wagner
Here are some of the titles included:
Part I: High School, Here We Come!
The High School Mentality

Transitioning from Middle School
Part II: Educational Issues
Restructuring High Schools for Inclusion

Registrars
Part III: Behavior Programming
Behavior Programming and Adolescent Angst

Positive Behavior Plans
Part IV: The Social Scene
Social Skills Overview

Social Skills Assessment
Part V: Adaptive/Vocational Options
Adaptive Skills

Work Exploration Programs
Part VI: Transitioning to the Adult World
Long-term Planning

Informing Students about their Disability
Part VII: Words of Wisdom
---
The fixed shipping rate is only effective in the Continental U.S. Any products shipped outside of the 48 states, including international, will be shipped using an estimate of actual fees. If you are interested in purchasing products outside of the Continental U.S., please contact sales@special-learning.com


Show all products