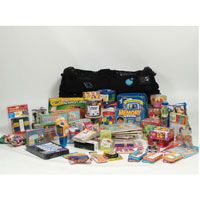 Autism Skill Acquisition Program
The all in one skill acquisition ABA program for children with autism sold around the globe!
The ASAP™ includes: A "How-to" guide for implementing ABA programs and teaching children with autism, The BIG Book of ABA Programs containing more than 500 modifiable, photocopyable, ABA teaching programs, the ABA Graphing CD used to create instant professional graphs, and the ASAP™ Kit (a HUGE wheeled duffle bag) containing every item, object, materials, card, and teaching accessory needed to successfully conduct the ABLLS®-R and implement a best-practice ABA program in a school or home setting. This all inclusive program has it all. How to teach new skills, what new skills to teach, programs for teaching new skills, all the materials needed to teach the skills, and all the accessories used for teaching. The one and only all in one ABA teaching program!
Autism Skill Acquisition Program
---
The fixed shipping rate is only effective in the Continental U.S. Any products shipped outside of the 48 states, including international, will be shipped using an estimate of actual fees. If you are interested in purchasing products outside of the Continental U.S., please contact sales@special-learning.com


Show all products